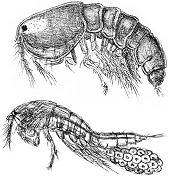 Account of the Crustacea of Norway; Vol. 5: Copepoda (Harpacticoida)

G.O. Sars (1911)

ISBN-13 978-1-904690-58-0

Price: CD-ROM: £36.00

+ VAT/postage


Download: £21.60

(VAT-free)

The fifth volume of Sars's comprehensive "Account of the Crustacea of Norway", Copepoda (Harpacticoida) covered all known Norwegian Harpacticoida at the time of publication (1911). 284 plates provide detailed illustrations of all the species; each species description includes male and female characteristics, Norwegian occurrence and world distribution.

Out of print and very scarce for many years, 'Harpacticoida' is now available on CD-ROM, for Windows PCs and Macs, from Pisces Conservation. The plates, figures and text are reproduced exactly from the original, with the added bonus of being

fully cross-referenced and searchable for ease of navigation

.

The quality of reproduction of all the illustrations is excellent, allowing accurate and precise identification. The book is in Adobe Acrobat pdf format, allowing text and images to be printed at high resolution. In addition, high-resolution scans of all 284 plates are included separately on the CD.
SPECIAL OFFER!
Buy
all 9 volumes
for only £100.
Prices exclude postage/VAT